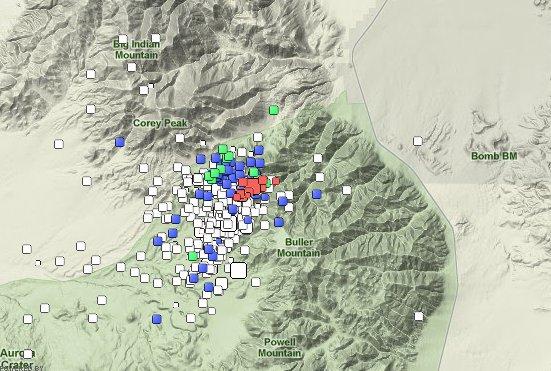 UPDATED: Wed Apr 28 12:16:58 PDT 2011
Over the past six weeks 36 earthquakes of Magnitude 3.0 and larger earthquakes (listed below) have been located in a sequence about 12 miles southwest of Hawthorne, Nevada. The first of these occurred on March 15th at 11:14 AM PDT and the latest at 5:49 PM PDT on April 27th. The preliminary magnitude for the largest event is M 4.6.
In all, there have been several hundred events of Magnitude 1 and larger; only a small fraction of the entire sequence has been reviewed There have been 1000's of smaller magnitude events.
The Nevada Seismological Laboratory deployed 3 temporary telemetered instruments in the source area on April 17-19 including a NetQuakes instrument at the Court House in Hawthorne. These temporary telemetered instruments deliver real-time data to the data center in Reno and are configured with 3-channel broadband sensors and 3-channel accelerometers.
Below the event list is a series of 24 hour helicorder image for the station TVH2 directly above the sequence. Each line in the image represents 1 hour of data; time is reference to Universal Time Code (UTC). Each vertical 'blip' on the record is an earthquake; the larger amplitude events are the larger earthquakes.
DATE         TIME         LOCATION                             LAT          LON       DEPTH    MAG
04/27/11     17:49:56     8.9 miles SSW of HAWTHORNE-NV      38.4178     -118.7166     2.4     3.7
04/27/11     12:19:20     9.2 miles SSW of HAWTHORNE-NV      38.4141     -118.7180     2.6     4.3
04/27/11     06:23:35     9.7 miles SW of HAWTHORNE-NV       38.4094     -118.7257     0.7     3.5
04/24/11     17:03:21     9.5 miles SW of HAWTHORNE-NV       38.4114     -118.7251     0.4     3.3
04/23/11     19:30:26     8.8 miles SW of HAWTHORNE-NV       38.4199     -118.7168     2       3.5
04/19/11     03:52:50     10.0 miles SW of HAWTHORNE-NV      38.4127     -118.7423     2.3     3.1
04/17/11     22:42:27     10.1 miles SW of HAWTHORNE-NV      38.4121     -118.7450     0       3
04/17/11     21:43:02     10.2 miles SW of HAWTHORNE-NV      38.4179     -118.7554     2.7     3.3
04/16/11     18:19:26     10.6 miles SW of HAWTHORNE-NV      38.4010     -118.7409     11.8     3.7
04/16/11     18:05:03     10.6 miles SSW of HAWTHORNE-NV     38.3924     -118.7223     16.6     3.3
04/16/11     17:57:50     12.9 miles SSW of HAWTHORNE-NV     38.3619     -118.7398     14.6     3.5
04/16/11     17:55:46     12.1 miles SSW of HAWTHORNE-NV     38.3690     -118.7278     13.2     4.1
04/16/11     17:45:37     10.8 miles SSW of HAWTHORNE-NV     38.3943     -118.7348     15.4     4.6
04/15/11     11:21:31     11.5 miles SW of HAWTHORNE-NV      38.3914     -118.7526     10       4
04/15/11     10:24:25     11.0 miles SW of HAWTHORNE-NV      38.3953     -118.7424     15.9     4
04/15/11     10:06:38     10.5 miles SW of HAWTHORNE-NV      38.4002     -118.7345     15.6     3.9
04/15/11     06:33:55     10.8 miles SSW of HAWTHORNE-NV     38.3945     -118.7348     12.8     4.3
04/15/11     06:17:57     10.5 miles SSW of HAWTHORNE-NV     38.3987     -118.7323     15.3     3.2
04/15/11     00:41:23     10.1 miles SSW of HAWTHORNE-NV     38.4032     -118.7298     15.5     3.4
04/14/11     05:05:56     12.0 miles SSW of HAWTHORNE-NV     38.3808     -118.7479     13.5     3
04/14/11     04:58:08     12.0 miles SSW of HAWTHORNE-NV     38.3798     -118.7464     13.9     3
04/13/11     15:59:19     11.6 miles SSW of HAWTHORNE-NV     38.3819     -118.7370     16.6     3.1
04/13/11     15:16:08     11.5 miles SSW of HAWTHORNE-NV     38.3857     -118.7420     15.4     4.2
04/13/11     15:15:20     12.2 miles SW of HAWTHORNE-NV      38.3789     -118.7525     12       3.6
04/13/11     15:10:08     12.5 miles SSW of HAWTHORNE-NV     38.3715     -118.7476     13.1     4.4
04/10/11     18:05:00     12.1 miles SSW of HAWTHORNE-NV     38.3751     -118.7392     6        3.3
04/10/11     17:31:09     11.7 miles SSW of HAWTHORNE-NV     38.3840     -118.7453     12.4     3
04/10/11     17:22:21     11.7 miles SSW of HAWTHORNE-NV     38.3794     -118.7349     13.8     4.2
04/10/11     17:21:16     12.2 miles SSW of HAWTHORNE-NV     38.3724     -118.7371     14.9     3.9
04/10/11     17:20:17     12.8 miles SSW of HAWTHORNE-NV     38.3638     -118.7417     9.2      3.6
04/10/11     17:13:11     14.5 miles SSW of HAWTHORNE-NV     38.3370     -118.7456     10.2     3.3
04/10/11     16:06:00     12.2 miles SSW of HAWTHORNE-NV     38.3741     -118.7406     9.7      3.5
04/10/11     16:02:16     12.2 miles SSW of HAWTHORNE-NV     38.3725     -118.7384     10.1     3
03/15/11     11:14:40     11.1 miles SSW of HAWTHORNE-NV     38.3849     -118.7273     12.5     3.7
03/15/11     11:11:02     11.1 miles SSW of HAWTHORNE-NV     38.3859     -118.7266     12.2     3.2
http://www.seismo.unr.edu/Earthquake